by Judy Turner, Founder and former Director of the MSFC

The association with Bill and Diane Sides goes back a long way in fiddle club history – so long it is almost shrouded in the mists of time! For MSFC, the partnership has brought huge benefit over the years, and for the Sides it's provided a sense of connection to their Scottish heritage, and a new love, Scottish Country Dancing, which they came to through former MSFC President (2000-2011) Matt Robertson.

We first connected with the immensely talented and passionate Bill Sides in 2004, when one of his cousins called from Hobart to ask if we would be involved in playing for his mother's 80th birthday. No ordinary gig, he wanted us in a sense to resurrect a fiddle made for his mother (Bill's aunt) by her father (Bill's grandfather) the late John Anderson.

A friendship was germinated that day, and led to a grand project of collecting all the Anderson fiddles that could be found in order for the Club to bring them back to playing condition (thanks to Jim Vizard – former member) and use them for the recording of the Shetland Jigs on A Long Way from Home*. The Anderson descendants came in droves to the Hawthorn Town Hall and sat proudly in the front two rows, tears streaming down many faces. It was a great moment for all of us.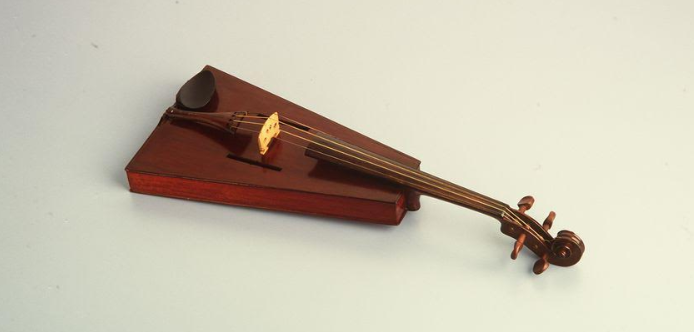 A trapezoid Anderson fiddle made in 1957.

Some time later, we decided to ask Bill if he would be prepared to support a travelling scholarship, so that MSFC members could learn more about the music of Shetland, his ancestral home. Bill was up for it and the 'Travelling Fiddlership' was born, enabling MSFC members to travel to Shetland and soak up the music and history. The idea we all liked was that on alternate years a leading fiddler would come from Shetland to work with our group. Recipients have included our immediate past President Gus Downing [2010] Chris Stout and Catriona McKay [2011] Matt Robertson [2012] Ross Couper and Tom Oakes [2013] Louise Godwin, Judy Oleinikov, Claire Alleway and Declan Simpson [2014], and culminating in the entire MSFC touring party visiting with Bill and Diane in our 21st anniversary tour in 2015. Magic memories and deep friendships were formed. You can learn more in this lovely little video made by former member Ronald McCoy:



This year, we will welcome as our Travelling Fiddler the splendid Margaret Robertson. In many people's minds the successor to the legendary Tom Anderson, Margaret has been teaching fiddle to generations of school children in Shetland, and now runs the mighty Hjaltibonhoga and masterminds the contribution of fiddlers from around the world to the mighty Royal Edinburgh Military Tattoo. Many of our members have played in Melbourne, Edinburgh, Shanghai and this year will join Margaret in Sydney.

For all of this and much, much more we owe a debt of gratitude to the wonderful Bill and Diane Sides. If you want to see just how much fun Shetland fiddlers can be – check out this clip from our concert with Ross and Tom back in December 2013.



*Here's the text of a letter that appeared in the local paper (Boroondara Leader) after our packed launch concert on 14th August 2005:

"A crowd of more than 700 packed sardine-like into the newly refurbished splendour of Hawthorn Town Hall on Sunday afternoon for one of the best afternoon's entertainment the grand old hall can remember. The balcony was full and the standing area too, and it's many years since that was last the case, so locals say.

As part of an occasional series of free concerts being put on by Boroondara Council, the Melbourne Scottish Fiddle Club put on a show to be proud of. The afternoon started with a queue reaching down Burwood Road long before the doors opened, to the sound of bagpipers sound checking. Crowds poured out of packed trams onto the wintery street outside the front door.

The theme of the concert – A Long Way from Home: Scots Music in the Antipodes- saw the inclusion of a couple of songs by Robert Burns from the songbook of Georgiana McRae, who came to Melbourne from Scotland in the 1830s. Her hand written song books still exist. Jenny Thomas, one of Melbourne's most beautiful singers, interpreted the songs with great warmth and subtlety and the arrangements lent great poignancy to the songs. I'd never seen someone sing and play fiddle at the same time before. How she does it, and sings so beautifully too, is a source of some wonder.

Alex Legg, a Scottish singer-songwriter recently moved to Melbourne, joined the Club for a rollicking version of 'The Barnyards of Delgaty', a Bothy ballad from North Eastern Scotland, and another beautiful arrangement of one of his own songs, Oh What A Day It's Been. We're told the Fiddle Club starts recording its third CD soon, and if the club is able to carry it off as beautifully as it did in this concert, this song will be a big hit.

In between, the 30 fiddle players brought us medleys of fast Scottish dance tunes and heart-breaking slow airs. Joined by The Hawthorn Pipe Band, rousing sets of jigs and reels almost took the roof off the building, and what a spectacle, aural and visual, to see the pipers, drummers and the fiddle players and rhythm section playing up a storm!

Slightly tenuously, some might say, Neil Adam sang Paul Kelly's beautiful ode to Melbourne "From St Kilda to King's Cross", and again there was hardly a dry eye in the house as his high clear voice filled the room, accompanied by beautiful harmony singing and fiddlers getting stuck into the tune.

The Pipe Band and dancers started off the second half after cups of tea and sandwiches all round, and we heard about Robert Louis Stevenson and poems he wrote in Samoa, and then the marvellous tale of the John Anderson fiddles. John Anderson was a local man who came from Shetland in 1912 and made a violin each year till the 1970s. To cut a long story short, club leader and inspiration Judy Turner has got together more than a dozen of these fiddles, some still in use, others stored in cupboards or on display as family heirlooms, had them restored by one of the fiddle maker members of the group, Jim Vizard, and here they were being played by some of Melbourne's finest fiddle players. As Jim led the group through a tune from Shetland by Tom Anderson, called 'The Slockitt Light' (The dying light, composed for his wife's funeral) the hair stood up on the back on my neck.

The raffle was drawn, and prizes won. CDs and Fiddle Club T shirts, jumpers and scarves were sold. There were more tunes from Shetland, and elsewhere in the Scottish diaspora. The pipe band drummers and dancers joined for the fiddlers again, the biggest finale the hall would have seen in years, the band marching out through the crowd into the street beyond. The session continued in the foyer and on the road outside, as the audience, loathe to leave, hung around wanting to take in more of the spirit. Tunes with names like Spootiskerry and Da Old Road to Da Oub still rang through the rafters and in our memories. Voices were heard saying it was the best concert they'd seen in years or ever been to. That the variety was so great, that the fun was so massive, that the playing and singing was so wonderful!

Boroondara Council, and Judy Turner and Melbourne Scottish Fiddle Club, should be proud of themselves, and we should be proud of them! This was home grown entertainment of the highest professional level."

Picture: Bill Sides, Chris Stout and Judy Turner in one of Bill's many vintage cars.