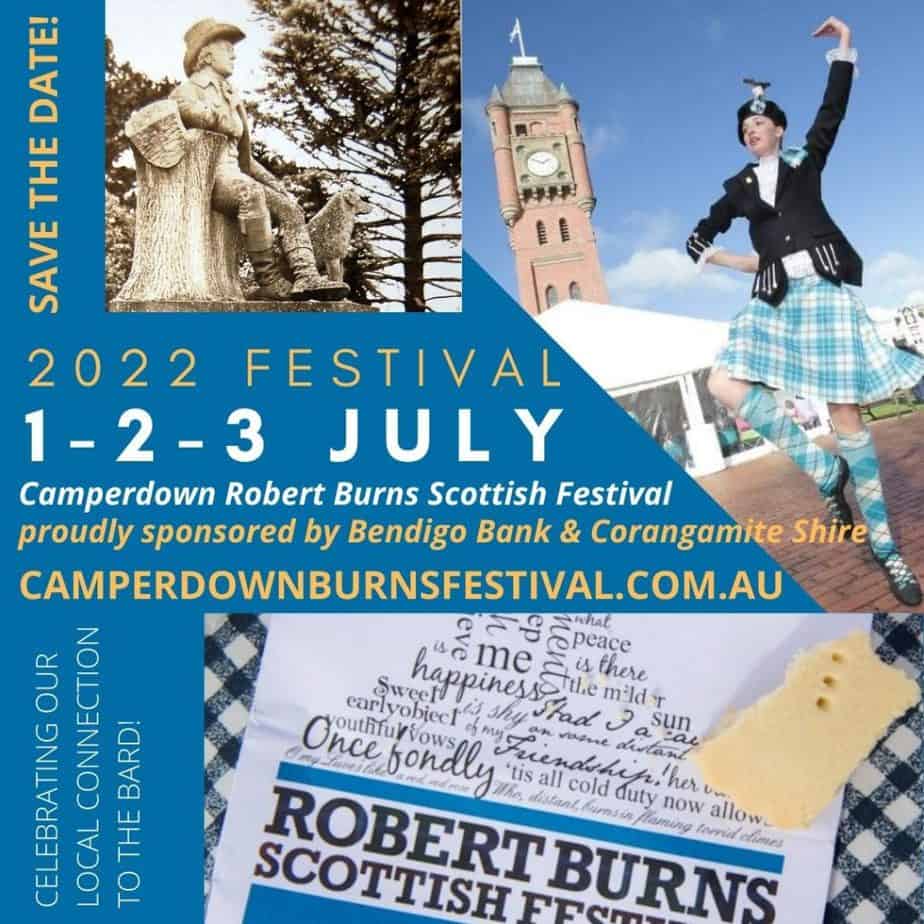 We're delighted to perform this year at the Robert Burns Scottish Festival in Camperdown after a few years off.

---
The 2022 Robert Burns Scottish Festival is set to return to Camperdown 1-2-3 July this year. The Festivals Chairperson, Dr John Menzies OAM is pleased to announce that festival is going ahead and promises to be a great festival. After two years of Covid restrictions and limited festival events last year due to the Covid restrictions the committee are working hard to ensure that Patrons and the local community are able to enjoy a full festival in 2022.
The committee have invited back the musicians who were to perform at last years cancelled festival. These include The Melbourne Scottish Fiddle Club, Fiona Ross and Shane O'Mara, Claire Patti, Austral, and Cornerhouse. A line-up of talented local bands and musicians including Pete Daffy and his band, The Twa Bards, Tuniversal Music Group, Camperdown's Lakes and Craters Band and the Warrnambool Pipes and Drums.
Scottish and Irish Fiddler Laura Flanagan, is our International Act, coming from the USA. She will be performing at this year's festival and also conducting a series of Fiddle workshops. Laura is based in Texas and arrives in Australia in early June. The committee is looking forward to hosting Laura, it will be a real treat to see her play.
Check out the festival website for all the info:
https://camperdownburnsfestival.com.au/